Symposium #6
The closing session will be a celebration of DIY culture and home-brew musical projects. There will be demos and presentations of hand-built, circuit-bent, custom designed, odd and unique instruments selected from an open call. Journalist and digital musician Peter Kirn will host and introduce the various projects. Do it yourself, but do it together.
→ With: Peter Kirn, Miguel Pipa, Rob Hordijk, Mathius Shadow-Sky, Matteo Marangoni, Claudia Robles Angel, Christian Fischer, Shingo Inao, Levy Lorenzo, Léon Spek, Ondrej Merta, Hans Leeuw
We received an overwhelming number of fantastic submissions, but could only feature a handful due to space restrictions. Thanks everyone! Here are the selected projects:

Rob Hordijk / Handbuilt electronic music instruments
"Handbuilt analog electronic music instruments, including the Blippoo Box, the Benjolin workshop project, the analog modular system developed over the last two years."

Myster Mathius Shadow-Sky / the Archisonic Lamp
"In 1980 an angle poised lamp as musical instrument becomes during years a sophisticate multitimbral electroacoutic musical instrument. I stopped playing it in 2007. "

Matteo Marangoni / Speaker Botz
"Speaker Botz are mobile robotic speakers, acoustic explorers of terrestrial space, artificial creatures that probe their environment with sonic impulses. Initially developed as a reaction to the practice of sound spatialization as found in electro-acoustic music, they have become an autonomous project, resulting in poetic machines who's purpose is to envelop listeners with patterns of echoes bouncing off the walls."

Claudia Robles Angel / INsideOUT
"An EEG interface that measures the brain activity sends the values via OSC to the Max/Jitter patch to control video and audio effects in during the performance."

Xavier van Wersch / Ecotronics
""Ecotronics" is not name for single project but rather what my work generally is all about: exploring the relation between man and machine or, in a wider sense, nature and technology, by conceiving them as a hybrid ecosystem in which erratic behavior is the principal condition for interaction and evolution."

Christian Fischer / Fruitilyzer
"I use a vegetable and two needles to control the sound of an inverter. the closer the needles get in the vegetable, the higher the sound."

Shingo Inao / Self-made original sensor instrument Tosso
"The instrument "Tosso" is made of wood and outfitted with six guitar strings. "Tosso" operates based on a two-axle acceleration sensor that measures inclination and is located inside the instrument."

Miguel Pipa / kanukanakina
"Kanukanakina is a musical project, developed from instruments built on the logic of circuit-bending and reused materials. "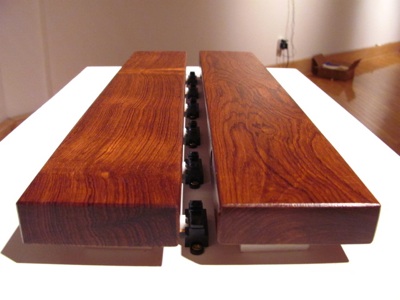 Levy Lorenzo / Air Marimba
"Reminiscent of a traditional marimba that is struck with mallets, this electronic musical instrument allows the musician to play the air above the bars to make sound."

Léon Spek / Ferrophone & Sonoplotter
"The Ferrophone is an instrument that produces sound by scraping two nails across two circular steel plates. Each plate holds one of the nails. By changing the rotation speed the appearing sounds vary from a mean metallic scraping to subtle overtones. It can also be bowed for more sound and playing options. Sonoplotter is built around its central steel disk that functions as a resonator and support for three springs. It is played using a rotating motorized bow and an electro-magnet."

Ondrej Merta / Standuino
"Standuino is a clone board of Arduino that is adapted to even more DIY approach. It allows you to build several kinds of devices just on the one very board. Our reasearch and development is focused mainly on audio devices, but we are going to do visual and mechanical devices too."
Hans Leeuw Electrompet ver 2
"The Electrumpet is an enhancement of a normal trumpet with a variety of electronic sensors and buttons. It is a new hybrid instrument that facilitates simultaneous acoustic and electronic playing."
Peter Kirn is a composer/musician, media artist, and technologist, as well as writer and editor of createdigitalmusic.com and createdigitalmotion.com. The Handmade Music event series he originated with Etsy.com and Make Magazine is now spreading to other corners of the globe, from Texas to Portugal. He has also written for Computer Music, MAKE, Keyboard, Macworld, and Wax Poetics. He is the author of Real World Digital Audio (Peachpit Press). His own work spans live visuals and computer music, collaborations with modern dance, music for early instruments and voice and ambient techno, working with original software in Processing/Java and other tools. He's currently teaching visual programming and sound and music design at Parsons The New School for Design and is a PhD candidate in music composition at The City University of New York Graduate Center.